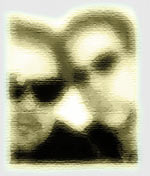 This is us.

Our ego page.
This is music we have made up ourselves.
When we don't really know what we're doing.

No specific goals, or plans in the beginning.
Just to have fun and see/hear what we come up with.

This material will more than likely become the basis for our first full length album. And, of course, if you feel inspired and have ideas for collaborating
(instrumentalists/vocalists/lyric writers/etc)
, please let us know.

We would like this to be fun and are open for suggestions and opportunities.
Promo Tracks DiM
sub:version 1


(orchestral)

mp3
sub:version 2


(electronica)

mp3
sub:version 3


(lounge)

mp3
sub:version 4


(alt rock)

mp3
sub:version 5


(latin groove)

mp3
sub:version 6


(ambient)

mp3
x
full-length versions here